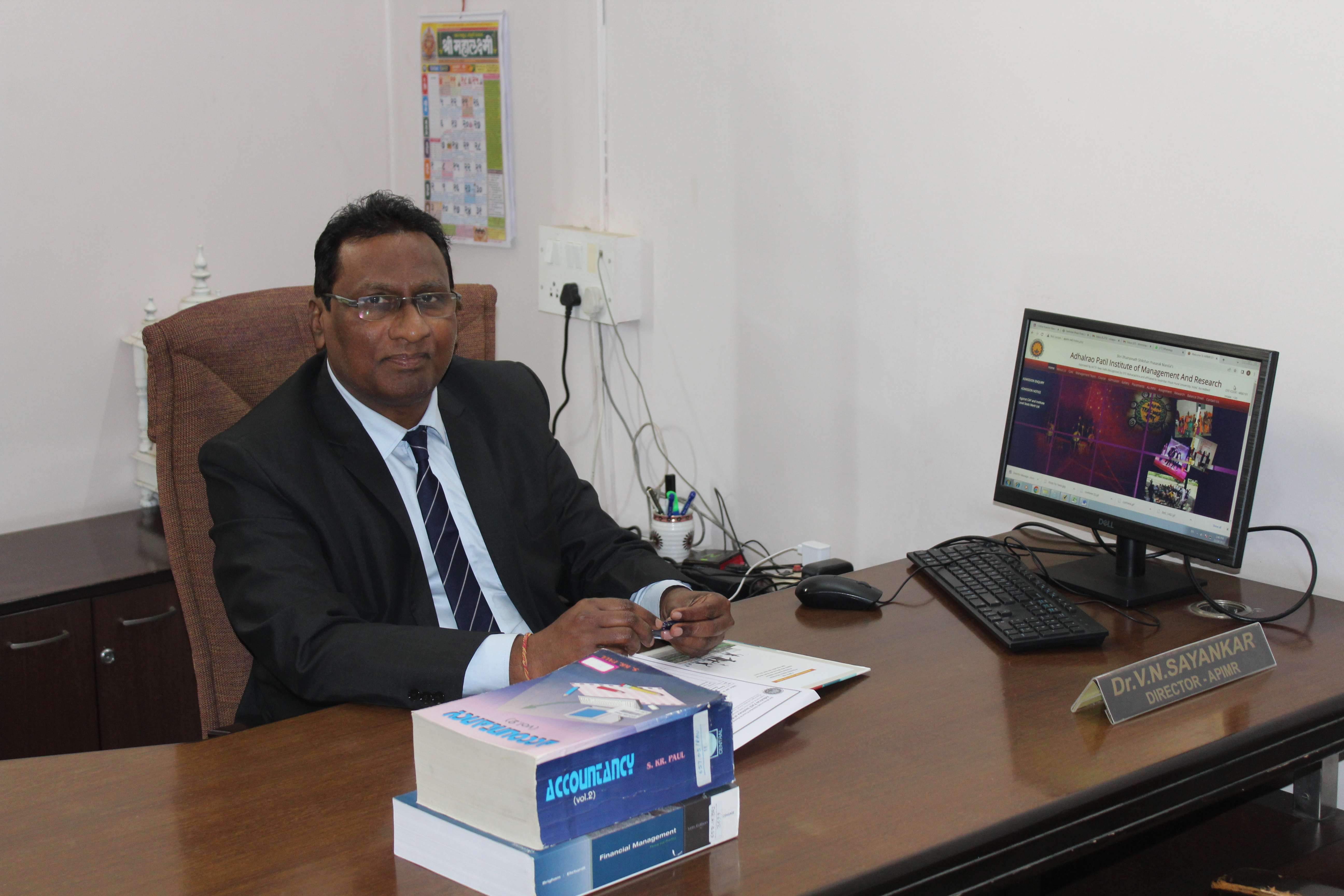 Dr V N Sayankar
Director Of APIMR
My Dear Students,
Blissful Greetings'….
Bhairavnath Shikshan Prasarak Mandal's Adhalrao Patil Institute of Management and Research (APIMR) is an institution providing MBA and PhD, established by founder and Chairman Hon'ble Shri. Shivajirao Adhalrao Patil, a well-known entrepreneur and Member of 14 th , 15 th , 16 th Lok Sabha, Government of India, a personality who struggled a lot to grow.
Your successful career journey is here as Bhairavnath Shikshan Prasarak Mandal's(BSPMS) Adhalrao Patil Institute of Management and Research (APIMR) is known for providing high-quality education and nurturing students from start to end. It has one-of-a-kind legendary arms of qualified, distinctive research holders' faculties. They are always willing to lend a helping hand in all of their activities.
We understand that the business and industry required well-qualified employees to join their team. Yes, that is what is happening in BSPMS APIMR as a result of experience learnings, case studies style of teaching, industrial visits, student foster platforms for general personality grooming, and a variety of other student-connect activities such as mentorship. APIMR's learning culture and entire environment encourage you to grow.
APIMR has researched and developed an environment at the campus which not only develops the management student holistically but also prepares him/her to face the Industry and Corporate World with more confidence.
The best method of learning is participating in the events of the Institute, which will certainly make you confident, capable, competent, and convincing. You know that these are analytical tools, which are really needed by the industry and market to handle the volatile situations. Let us join hands and grow…
The entire APIMR team welcomes you to join the magnificent grandeur of a learned team of expertise. At APIMR, you can have fantastic learning experiences as well as wonderful and great days.
APIMR Wishes You Happy Learning!!!!!
Dr. Vinod N. Sayankar
Director - BSPMS APIMR
PBDCA, MBA, Ph.D.